A lot of things have changed in the corporate world over the last few years. People are working remotely. They're working flexible hours and days. They're quiet quitting. And they're pretty set in their ways about it. Which makes the notion of an offsite seem sort of superfluous. Especially when you consider that you already have a location that feels like a change of scenery: your office.
So, if you're going to gather, and want to make it special and memorable, why don't you plan your next onsite day to feel like an offsite?
Here are a few ideas that can help:
Reconfigure Your Space
If you're bringing people together, the last thing you want is to have them all be confined to their offices and cubicles. In fact (and we hate to break it to you) but closed offices and cubicles might not work anymore for your space. So, you have a couple of options. You could completely rework the space, with new rooms and zones for connection and collaboration (think art, color, and installations to keep people inspired and excited to be there)—OR—you could create a new zone or two and send your teams there when they meet.
Prioritize Health and Wellness
Whether you're painting the office, creating new zones, buying furniture, or just planning your afternoon, make sure the health and wellness of your employees is at the forefront of your mind. The pandemic did a number on everyone's mental health, and as we come back together it is so important that employees feel seen and supported in their wellness journey.
Wellness can take on a lot of different forms. If you're painting and redecorating, use non-toxic and sustainable materials. If you're reconfiguring, make sure there is space for social connection and maybe even a little yoga or meditation. If you're planning a day, consider bringing in a breathwork specialist or someone who can help with stress (shameless plug, we have a great virtual course for this called Calm in the Midst of Chaos.) At the end of the day, if your team feels prioritized and supported, you're going to improve company culture, employee retention and productivity, and make the notion of coming back to the office feel a little more manageable.
Set a Purpose
Don't just bring people together because you're trying to fill a quota or it's the 2nd Tuesday of the month. If you're having people commute back into the office, do it for a reason. Perhaps it's a brainstorming meeting, a problem to solve, your leadership team would like to check-in or share updates with a bigger group, or you want to celebrate a little. Whatever you decide on, share it ahead of time with your team, so that they understand why they're being called in.
Bring in Outside Help
Now more than ever, it's important to keep your team inspired and engaged. So, for your next in-office day, consider bringing in some outside support to mix things up a bit. Have a guest speaker, bring in a special catered lunch, host a wellness activity, or (our personal favorite) bring your teams together through play.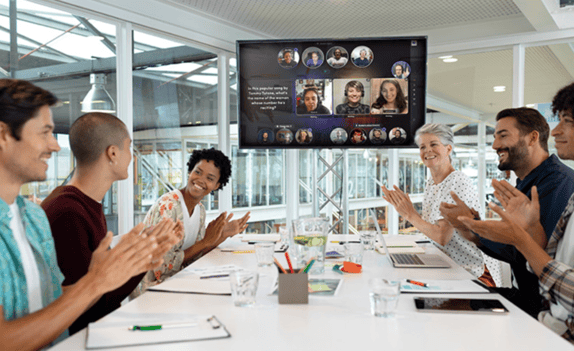 Connect with Another Office
As Global In-Office days become a growing trend, it's important to not only connect with your teams at your office, but at other locations across the country/globe. To help you with that, we now offer a Location vs. Location experience, where you can play our popular in-person Game Show with your team against another office location. A live Onsite or On-Screen host will lead you through the engaging and hilarious game types, and we'll track each team's and location's points to reveal the winning team and location at the end. Because nothing builds camaraderie like a little friendly competition.
Have Some Fun
We can't stress this one enough. Play, fun, laughter, and connection are so crucial in general right now, and should definitely be prioritized when you bring your teams together. And there's no better way to make an onsite day feel like an offsite than to plan it out and treat it as such. How can you maximize fun throughout the day, and breakup any work-related meetings or tasks to ensure your teams stay focused and excited to be there? As play experts with decades of experience, we're happy to talk you through some ideas.
Stay Transparent
With so much uncertainty out there right now, it is more important than ever to be transparent with your employees about what you're doing. Hone in on your communication efforts to make sure your teams are in the know, feel valued and prioritized, and understand new efforts, initiatives, and plans you may be developing.
To recap, getting everyone in one place is hard enough, let alone planning an extravagant experience at an unknown location. So instead of hosting an offsite, turn your next onsite into an offsite experience. It's a great way to make the most of Global In-Office days and make your teams feel appreciated and connected.