11 UNIQUE
ACTIVITY TYPES
Mini-Games that are easy to play and easy to self-host
Trivia content that is updated monthly
Each Experience consists of a collection of activity types.
Try a Demo
Trusted by leading companies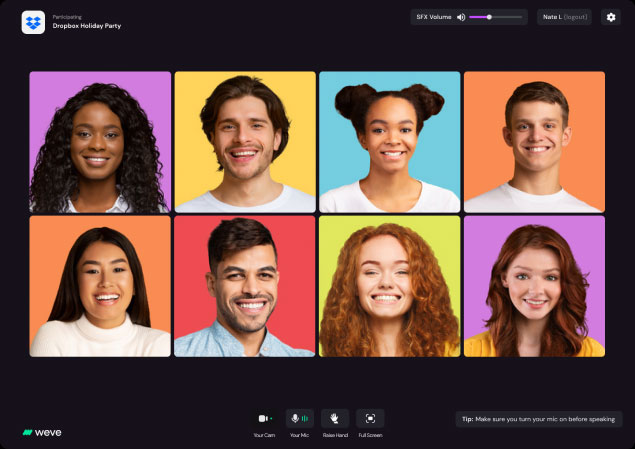 ACTIVITY TYPES
Trivia
The kind of trivia you know and love! Questions on just about anything for those of you who may be walking around with useless knowledge. Mind-bending riddles, puzzles, photo clues, and more. Customized questions available.

Categories
Enter as many of the items on the given list ("Name the most populous cities in the world") as quickly as possible before time runs out.

Where In The World
Do you know where that photo was taken? Identify photo clues of destinations all over the world with multiple-choice options. Perfect for international audiences and globetrotters.

Pictionary & Art Draw
First, players receive a prompt (e.g. "Recreate a famous work of art") to create a picture. Then, one team draws while the other teams guess. What team can collaborate on the best work or art and work together to guess fastest?

Meme Generator
Together, teams search and find an animated GIF that suits their question (e.g. "Find a GIF that represents your team spirit"). They'll give that GIF a caption and then teams will vote on each other's selections.

Lip-Sync
Players get to choose a song to lip-sync from a small list of options. Once the song is selected, the players are cycled through individually and each have a moment to shine. We'll provide the lyrics and the music. The more fun, the more points!

Scavenger Hunt
Players receive a clue referring to an everyday item commonly found in their homes. Decipher the clue and bring the item back first to get the points!

Fun Fact
Each player submits a simple fact about themselves. Then, teams match the faces of the other teams' players with their facts, after all facts are submitted. Can you guess who has been skydiving in six countries?

Photo Booth
Each player takes a selfie photo, then drags fun, fun images (sunglasses, party streamers, funny hats) over their photo to help them look wacky. Once submitted everyone votes for the one that is the most fun!

Awards
Five players are placed into a poll to and players vote on which nominee wins that category. Learn more about your teammates as you find out who would be most likely to go on an impromptu road trip and more !
Two Truths and a Lie
Two Truths and a Lie is the classic game where participants get to know each other. Players enter two truths and a lie on the first screen and the other players are asked to identify the lie.