The pandemic has completely changed the way teams meet. Though some teams were already working remotely, the COVID-19 accelerated remote work across the world. Since many teams were totally dispersed through most of 2020, virtual meeting trends skyrocketed. In 2021, some teams started returning to the office on a part time basis. And in 2022, many people will continue returning while others will remain remote, working at least part time at home, or with hybrid teams. The new way we work is going to lead to new virtual event trends and hybrid events trends in 2022.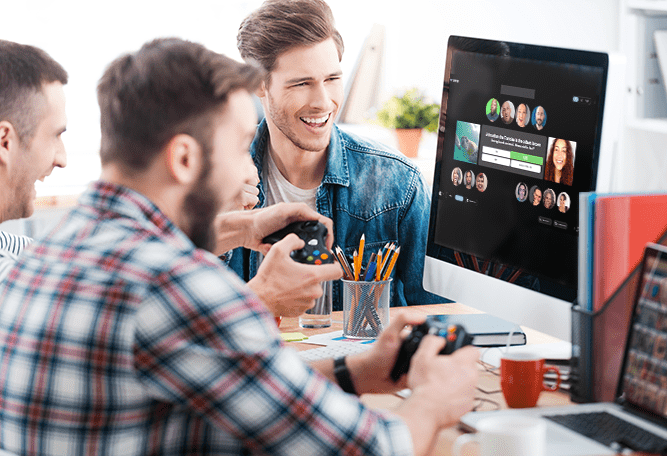 What is a hybrid event?
A hybrid event includes both in-person and virtual aspects. Some of the participants and speakers are together at a physical location while the others join online.
How are hybrid events run?
These experiences are hosted on virtual event platforms that can bring together both in-person and remote teams. These platforms encourage more than passive viewing of keynote speakers. They also engage participants on the ground and afar while facilitating interaction.

What are the benefits of hybrid events?
Hybrid events are able to draw attendees who could not usually attend events due to distance or financial constraints. There is a potential for the largest audience or attendance of any event in company history without the obstacle of travel. During hybrid events, attendees are able to participate more than they might attending a large in-person conference. Engagement is more accessible with the ability to ask speakers questions during a live stream instead of having to track them down after a keynote. Networking can be done by anyone willing to jump into breakout sessions at any time.
What trends should we look forward to in 2022?
The biggest virtual event trends in 2020 were mostly on Zoom. Professionally and socially, workplaces turned to Zoom for everything from meetings to happy hours. Things changed with virtual event trends in 2021 once Zoom fatigue hit many employees and companies tried to figure out how to balance meetings and help employees feel more engaged. Now with many people returning to the office while others remain remote, hybrid and virtual event trends will change again. Here are our predictions for 2022.
There Will Be New Ways to Connect Hybrid Teams Socially


Gone are the days of boring happy hours with everyone just sitting around holding a beer in their own kitchen. 2022 will bring new ways for hybrid, in-person teams, and remote teams to meet and play together. Weve's platform allows individuals to sign in from home or wherever they are working remotely and groups to join in events like scavenger hunts and trivia nights together from the office. When playing one of Weve's game shows, remote workers form a team together and officemates in person compete together. In a hybrid scavenger hunt, there are no spectators. In-person teams run around their city while participants at home help them solve clues and answer their own trivia questions.

Hybrid Conferences Will Include In-Person and Remote Teams


Before 2020, it might have been unusual to have remote employees join in on conferences—but in 2022, it will be the norm to engage dispersed teams in in-person conferences. Virtual meeting trends will change to cater to hybrid teams. Expect to see speakers live-streamed to those at home and new ways for remote workers to participate in networking events with other conference attendees. While at conferences, a few key speakers may take the stage while an audience merely listens; with virtual events, there is more opportunity for engagement.

Companies Will Plan More Regular Hybrid Events Instead of One Yearly Conference or Event


Without the financial and logistical obstacles of booking airfare and hotels for all attendees, it's easier to book smaller, more frequent events throughout the year. Instead of one major conference, expect more ways to gather more frequently. This will keep branches, departments, and satellite offices in more regular contact and lead to stronger bonds than a once-a-year catch up.

Hybrid Events Will Be Even More Creative


As hybrid events become more common, they will also become more creative. Hybrid hangouts won't be limited to meetings.

From murder mystery parties to escape rooms, hybrid teams will be able to play and connect in new ways.

Hybrid Attendees Will Have Higher Standards


As the standard for hybrid events is raised with better production value and more creative ideas, attendees are going to have higher standards when it comes to virtual and hybrid events. While this may make the job of event planners harder, it will help make events the best they can be.

International Inclusivity Will Be Key at Hybrid Events


Since teams are coming together from all over the world, it's going to be more important than ever to ensure events are inclusive. Technology like closed captioning and live translation will help international teams connect—even with language barriers. Bringing together people from across cultures in an accessible way is a hybrid events trend that we hope will be long lasting.

There Will Be New Sponsorship and Branding Opportunities for Hybrid Events


The same vendors and brands that sponsored in-person events of the past will have interest in getting involved in hybrid events. Though the opportunities may look different, there are still many ways for these brands to get involved and feel that they have a strong return on their investment.

Hybrid Events Will Become an Integral Part of the Events Industry


Hybrid events are not just a fad. Judging by the past few years, it seems hybrid events trends are here to stay. From the budget friendliness to the accessibility, hybrid events will continue to grow into a staple of the meeting and events industry.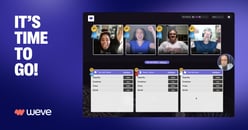 Connect your in-person and remote teams and be a part of the 2022 hybrid event trends. Sign up for a demo to see why Weve is the best way to connect your dispersed team. Use the platform for meetings and virtual team building activities at weve.co