If you've attended a conference or event in 2021, you know it looks much different than a conference or event from 2018 or 2019. The way conferences and events are run has changed drastically over the last few years. As lockdowns and work from home policies remain in place, event technology has changed to keep up with the new normal. Updates in event technology have made it easier to host and attend smoother and savvier events.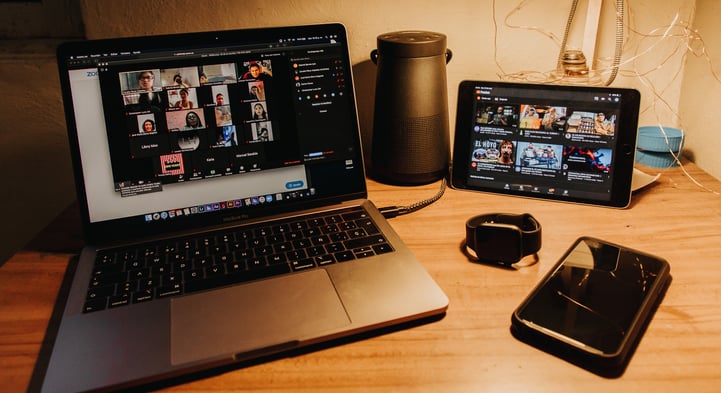 What is event technology?
Event technology can be used to describe any digital tool used to plan or execute an event. (It's pretty straightforward, right?)
How is technology used in events?
For event planners, technology is a big part of the planning process from sending invitations to gathering RSVPs to organizing the run of the show to queuing a speaker when it's time to start their keynote address. Once the event starts, technology is important to keep organized. Video conferencing tools and platforms are used to host virtual events. At entirely in person events, technology is used to communicate important messaging, engage attendees, perhaps in an event-specific app or gamified technology.
What are types of event technology?
You'll likely use event technology for most aspects of event management, including:
Creating a registration page
Gathering attendee information
Marketing events on social media
Checking in attendees
Building an event-specific app or platform
Creating an event website
Updating schedules
Signing contracts and waivers
Customer service messaging or chatbots
Creating and sharing event maps
Live streaming presentations
Chatting services for attendees
Engaging attendees
Collecting attendance information
Hosting virtual events on a platform
Tracking tasks and their statuses
Increases Employee Retention
How is technology changing the events industry?
A growth in technologies makes it easier to both plan and attend events anywhere in the world. People can increasingly connect across the globe without ever leaving their living rooms. New advancements and dozens of video conferencing networks make it possible for people to see each other, hear each other, play together, and even perform together. Virtual event platforms have improved to be able to include more people who work together remotely or a hybrid of in-person and remote participants.
How do you choose which event technology you need?
Every event and person will have different needs when it comes to event technology. The first thing to consider is your event goals. Are you hosting a small, intimate gathering without digital technology? There's probably no need to livestream your event. Are you hosting a meal for 500? Make sure you email out a survey to gather their dietary requirements. Look at your event goals and consider what technologies would make your task easier and make the attendees' experience better.
Make sure you also consider your event budget. There are always going to be technology trends with expensive hot new items to make your event great like wearable technologies and virtual reality sets. However, you don't need to include all of them, or perhaps any of them. If they align with your goals, make sure they also align with your budget.
Use These 12 Tips & Tricks to Keep Event Technology Fresh & Exciting:
Make it Engaging


Don't waste your time and money on event technology that people will look at but not engage with. The bells and whistles that come along with event technology are great, but they are only valuable if they are engaging. Be intentional about how people can use event technology to interact with you and other attendees. After someone attends a session, send them a quick poll to hear their thoughts about a speaker. Poll people about topics as they wait for sessions to start (has anyone seen Bob Ross speak before?) and allow them to submit questions for Q&A sessions right from their phone or computer (what do you want to ask Bill Gates?).

Create an App


Centralize everything to do with your event by making an event-specific app, a growing trend in events. This app can hold your map, your schedule, your list of speaker bios, the lunch menu, and whatever other information your attendees need. You can also gather important information here. If attendees RSVP for sessions on the app, you can see where your team might need to add more seats if there is high attendance expected. You can also see where there may be low attendance and where you might want to push wandering people if a session needs more bodies. Through the app you can send urgent messages such as, "The juggling performance will start in 10 minutes in the lobby."
Creating an app also helps with the increasing trend of more green and environmentally friendly events. With all the information in one place, you will save paper (and money) but not printing maps, schedules and more.

Gamify the Event


How do you innovate an event? Gamify it. Have you ever waited for a movie to start at the theatre and before the previews the screen shows a game or quiz? It adds a little fun before the experience. You can do the same thing, and more, to gamify events. Gamification is using the experience of gameplay to make your experience more immersive and interactive. Include ways for attendees to earn points by answering event-specific trivia questions, participating in a real or virtual scavenger hunt, taking post-session surveys, and competing with other attendees throughout your event. At events like sales kick offs, add leaderboards to hype the competition by showing what sales region has the most points, incorporate creative art projects to recap sessions, ask trivia questions about this year's goals, or have a creative video pitch competition. Incorporating play and competition helps get people more invested in your event and differentiates it from other (less fun) experiences.

Involve Sponsors and Vendors


At many conferences, in addition to attendees there are vendors and sponsors. Use event technology to involve them in your event and encourage engagement with them. Have vendors give out points when attendees visit their booth by integrating them within your event app. Have sponsors give out secret codes worth points when attendees stop and learn how their product works. Vendors and sponsors are looking for a return on investment in participating in your event (and you probably want them back again next year), so it is important to provide a more fresh and exciting experience for them.

Personalize It


One of the great things about event technology is that there are many ways to personalize experiences for attendees. Start with the simple addition of their name to all email marketing. "Hello Sean" is much more personal than "Dear Attendee." Most email platforms make it easy to do this. If you are hosting an event for a specific group, a college alumni group for instance, add in small touches such as using their university colors and images of their mascot to pre-event communication and onsite materials as well. This works just as well with corporate groups and their logos.

Make It Easy to Connect


One of the hopes of a great event is that people will leave feeling more connected. Make it easy for them to stay in touch during and after an event using event technology. Create an attendee list with headshots, links to LinkedIn profiles, email addresses, Twitter profiles, and other ways to stay connected. This way when people meet, they don't need to exchange information—they can easily find each other later for follow up. (This also helps when someone meets thousands of people in a day and forgets who they spoke to. They can browse the attendee list that night and can pretend they remember someone's name when they run into them in the elevator the next day.) If it's possible, leave this up year round until next year's event so people can keep in touch.

Create Ways to Share Experiences (and Maybe Even FOMO)


Create a specific event hashtag or social media handle where attendees (and the people who are missing out) can track what other people are saying about your event. Encourage guests to share inspiring quotes from sessions, fun pictures from happy hours, or whatever else they want the world to see. This will help people who couldn't make it to the event see what's happening and hopefully plan to join next time. (Yes, this is also a marketing technique.) Having a steam of sharing will also help the planning team keep an eye on what people are enjoying and what might not be going well.

Let People Choose Their Own Adventure


Event platforms that host virtual experiences like Escape Rooms allow people to choose their own adventure depending on what puzzles they choose to solve. This technology can be used for in-person events as well. Keep it fresh and surprising by adding options that are not on the schedule and communicating those options as a choice. For instance, you can send out a poll to attendees on an app that asks, "Are you in the mood for a mellow wine tasting or a louder karaoke night?" Depending on their answer, you can direct them to meet a sommelier in the atrium or join a musical crowd in Room 1A.

Use Streaming


While you don't want to share all the content of your event publicly, you may want to livestream certain keynotes or sessions from your event. Event technology can help you live stream speakers at a live event to people at home. For entirely virtual events, you can stream speakers right from their living room so attendees can watch right from their own living rooms. Use this same technology to share live or prerecorded introductions, Q&A sessions, and more. To keep people engaged, open a text chat where people can ask questions or share their thoughts while the stream is going. If it's not possible to do this live, you can also record sessions and share them after the event to keep the conversation going and maintain event buzz for those who could not make it or missed a session to attend something else.

Get and Give Help Easily


Make it easy for attendees to ask for and provide help. Create an easy text chat option where people can find assistance during live or virtual events. You may get questions such as, "I'm having trouble logging in" or "I can't find the conference room near the lobby." Whatever is thrown your way, make it easy to provide help. On the other end, create a place where attendees can share their tips as well. Maybe locals want to tell everyone about their favorite coffee spot by the convention center or share that people might want to bring a sweater since the air conditioning is strong. Create a virtual space where they can share these tips as well.

Make It Intuitive


Technology is great, but only if it's useful. Make sure all your public facing event technology is easy to use, or else it won't be used. Ensure the interface is organized and accessible. (Well, unless maybe your event is full of coders and developers who can figure anything out.) Test out the tech beforehand and ask some people to demo it to find issues and bugs before the big day. Ask what their frustrations are so you can address it. If there are things that are not intuitive, make sure to provide clear instructions and language.

Keep It Flexible


Event technology helps keep your event flexible. At the drop of a hat (or at the drop of a Wifi connection) you can adjust the schedule and allow all attendees to see the changes. Send an announcement alert about a room change or delay. Whatever changes have to be made (and they will-it's the nature of events!) technology will make it easier to communicate changes and keep it loose. Instead of printing out signs around a conference center, keep schedules virtual or entirely on an app so you don't have to run around making new signs. (And as we mentioned before, this is the greener way, anyway!)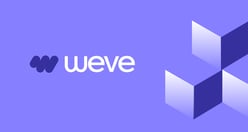 How can you make your event more memorable? We can help with that. Use Weve to plan your next virtual team building activity and see our event technology in action. Book your next event for remote teams at weve.co or book a demo now