The holiday season is filled with in-person festivities that can make remote teams feel left out. Have you planned an end-of-year party for your virtual team yet? Weve's virtual holiday team building games and activities are perfect for teams who can't gather in person but still want to celebrate together. Battle the "bah humbug" that can come along with parties on unengaging video platforms and turn your holiday party into one that "yule" remember for years to come.
But what do you do at a virtual holiday party? Weve has games, activities, and features to engage your team so your team can celebrate Thanksgiving, Christmas, Hanukkah, New Year, Kwanzaa, Festivus, or anything in between. If you can't get together with your family or friends this year, a virtual party is also a fun way to gather and celebrate even if you can't be together. Almost all of our game ideas work well for families and friends, too.
OUR 31 BEST VIRTUAL HOLIDAY PARTY IDEAS
People using Weve for the first time often ask us, what are some ideas for a virtual party? Our platform has 11 different activity types but between our games, activities, and features, we have even more ideas for your holiday party.
It's easy to (game) show your team a great time. We have dual themes—one winter-themed game show and one that's holiday-centered. Our ready-to-play experiences will "spruce" up any event. Or use some of these ideas as inspiration to design your own custom experience and make this holiday party your best yet. (It's going to be "snow" much fun.) We have ideas for everyone—no matter what you celebrate and no matter if you've been naughty or nice this year.
SET THE MOOD
Use these ideas to get into the holiday spirit.
Send Invitations


Make your party feel more like a party than a meeting. Don't just send another (boring)meeting invite, send a themed invitation with some funny punny holiday text like "Your presents is requested." Your Event Producer will have your link ready a few weeks before the event so you'll have plenty of time to include it in your invite and get ready for a great event.

Get Festive and Dress Up


Because the event is online, it is extra important to set the mood and make your virtual holiday party feel festive. Ask everyone to dress up in their favorite holiday outfits from New Year's Eve sequins to light-up menorah shirts and silly hats. To add some more holiday spirit, you can ask everyone to show off their holiday decorations in the background. (Really, we want to see how they decked their halls, literally.)

Kick Things Off With a Custom Holiday Greeting


In Weve's Lobby you can broadcast a pre-recorded or live-streamed message from anyone….even Santa if you can track him down. Play a holiday greeting from your CEO or a celebrity. Steam a slideshow of images and highlights from the last year. Create a video of everyone on your team sharing a holiday greeting in their native language or a collection of everyone sharing their favorite moments. Everyone can watch what you create at the same time using our Watch Party feature.

Play Holiday Music


We will have holiday music queued up to play as everyone joins and we will keep it going throughout your event. Each of our experiences has a large playlist of preloaded music that our professional hosts use as they take on the role of event DJ. (Though if you want Adam Sandler's "The Hanukkah Song '' played on repeat, we can make that happen, too.)

Break The Ice


Warm up your team as everyone joins the party. When guests enter the Weve Lobby they'll be greeted by holiday-themed ice breakers that they can use while video chatting in groups up to six. If not all party attendees know each other, the ice breakers are a great way to create connections quickly.

Make Your Holiday Party On Brand

Add your logo and company colors to your party so everyone immediately knows they are in the right place. We know your branding is important to you and we make it easy to make your holiday party match your brand.

Invite Some Special Guests


Want to add some ambiance and entertainment? Use our lobby's live-stream feature to showcase DJs, musicians, magicians, and more. We can even broadcast guests from the North Pole. (Though we are not sure of Rudolph's availability or wifi speed.)




PLAY SOME GAMES

What kind of games can you play virtually? Use these ideas to connect and guarantee and whole "latke" laughs.

Compete in Holiday Trivia


Put your knowledge to the test with trivia about holiday traditions, music, movies, and more. Our trivia writers work hard to develop content that's thematic, a bit challenging, and fun. Do you know when the festival of Kwanzaa was first celebrated? What about Scrooge's first name? Start studying up so you'll be ready when you go (mistle)toe to toe and compete against other teams.

Learn About International Holiday Traditions


Our Where In the World game will have your team identifying where a photo was taken. Guess the country by its New Year's fireworks display. Then, answer questions like: What famous Wonder of the World is thought to be associated with ancient Winter Solstice celebrations?, What do Koreans cook during Chuseok, their Thanksgiving?, and What does Boxing Day celebrate? You will earn points while gaining some knowledge about celebrations around the world.

Give It Your All in a Fa La La La Lip Sync Challenge

There is no musical skill required in our lip sync challenge. All you need is enthusiasm and maybe a great air guitar solo. Choose from a list of holiday songs like "Frosty the Snowman" and "All I Want For Christmas Is You" and go head to head in a lip sync battle that would make Mariah Carey proud.

Name That Holiday Tune

Can you identify the seasonal song in just a few bars? More importantly, can you do it faster than the other teams? Race to name that tune. In another round, listen to part of a song and see if you can say (or sing) the next lyrics. (It's never too early to listen to Feliz Navidad on repeat.)

Test Your Film Knowledge

Love holiday movies? Us, too. Can you recite every line from Home Alone 2: Lost in New York? Us, too. In this round, watch a clip from a holiday movie and buzz in with its title, characters, or whatever other answer is needed. (This is your excuse to start watching holiday movies before the fall equinox even happens.)

Draw It Out


Compete in an artistic challenge that would make Bob Ross grin. As a team, draw a response to a prompt such as: Recreate an iconic scene from your favorite holiday movie! You will have four minutes to draw before all teams rate each other's masterpieces. Of course, you can download and save all the beautiful artwork to use on next year's company holiday card.

Show off Your Pictionary Skills

We have themed the classic game of drawing and guessing with all holiday content. Get more points the faster you correctly guess what the other team is drawing. (And unless you're part of the graphic design department, be gentle. Everyone's "reindeer" may just look like a stick figure horse with antlers.)

Host an Ugly Sweater Contest

Make the dress code ugly. Encourage everyone to dress up in their ugliest holiday sweater. Host a holiday fashion show where everyone can show off their outfit. Then, let everyone vote with our poll feature and award the winner a prize. (Perhaps a nice, not-ugly sweater would make a good prize.)

Run Around During a Holiday Scavenger Hunt

In this game, players receive a prompt referring to a holiday-themed item commonly found in their homes. Think: Find something shaped like a candy cane. They must decipher the clue and bring their item back to their computer. Points are awarded based on speed and creativity.

Learn More About Your Teammates with a Fun Fact Match

Can you guess whose family eats cake on New Year's morning or whose signature Thanksgiving dish is homemade stuffing? In this activity, players answer a given question with a fact about themselves. Then, after all the answers are submitted, teams match the fact with the picture of the person they think submitted it. Teams can earn big points for knowing their colleagues well.

Have a Great Debate

Is Die Hard a Christmas movie? It's time to debate the issue. Have a holly jolly debate with holiday themes. Choose someone from your team to answer and defend what your team thinks is the best holiday song of all time or believes to be the worst holiday movie ever.

Rock out (around the Christmas tree) with a Karaoke Night


Set up a karaoke room that anyone can join at any time. We provide the lyrics and the music to more than 100 songs. Our options span decades and genres, so even the office Grinch will find something they want to sing.

A Quick Game of Categories

This game is all about speed. Name as many items as you can in a given category. Can you name all 12 Signs of Chinese New Year? What about the last 10 cities to host the winter Olympics? Hurry and type them in before time runs out.

Play the White Elephant Gift Exchange Game

In this activity, you are shown a bunch of gifts and everyone has to choose what gift they would want from the lot. Earn points by guessing who took which gift and find out how well you know your teammates.

Look Back in Time


Answer questions about the last year in our New Year's Game. Content includes trivia about recent events, top 10 lists related to the previous year, and guessing each other's resolutions. A New Year's game is a great way to reflect on the past year in a fun, engaging way.

EAT, DRINK, AND BE MERRY

Host a Holiday Happy Hour

If you want to make a seasonal drink that's more advanced than a spiked hot cocoa, host a mixology class on the Web platform. A professional bartender, or even just your office's eggnog enthusiast, can live stream right in the lobby as your team follows along. Make sure to include a non-alcoholic mocktail option so everyone can mistle-toast to the holiday season.

Celebrate the Most Wine-derful Time of the Year

Invite a sommelier to host a wine tasting so you can wind down before the end of the year. Just like a mixology class, you'll be able to broadcast the expert so everyone can follow along while they sip. (Talk about holiday cheers!)

Cook a Holiday Meal or Snack Together


Learn to cook from a seasoned chef or one of your culinary colleagues. Send out the ingredients or an ingredient list beforehand. Everyone can watch step by step on the live-stream feature so they can fry potato pancakes for Hanukkah, cook Jollof rice for Kwanzaa, and make Hoppin' John for New Year's. With everyone watching and cooking at the same time, you can all make and share your holiday meal together.

Have a Cookie Competition

Keep it simple and have a cookie decorating contest. Everyone can work on theirs at the same time while socializing in Meeting Mode and then show off their finished product so everyone can vote for the top cookie. For a more architecturally advanced activity, host a gingerbread house contest and put your icing and building skills to the test.

CREATE MEMORIES

Snap Pictures in the Holiday Photo Booth

The holiday photo booths in the Lobby and in your game are great places to take some silly seasonal selfies. Everyone can drag fun images (funny hats, sunglasses, scarves, party streamers, and more) over their photo. You can also download them if you want to hold onto your perfect pose for later.

Host a Gift Exchange

If your company does a Secret Santa or holiday gift exchange, use Weve's Meeting Mode so everyone can see each other as they open their gifts together. Or if you are announcing a team gift (or maybe even a holiday bonus), you can share the news with everyone in Meeting Mode, as well.

Organize a Prize Raffle

Our raffle feature allows you to easily organize a raffle in our lobby. All attendees are automatically entered and you can live broadcast as you choose the winner at random. It's an easy way to plan giveaways and hand out gifts—no chimney required.

Add in Custom Content

If you want to think outside the (gift) box, we can also help you customize your experience with trivia about your company or coworkers. It's as simple as inputting the questions and answers directly into the Event Manager Dashboard.

Give Out Year-End Awards


Broadcast a keynote speech that shows appreciation for your employees' hard work. Then, recognize individuals with an awards ceremony. These awards can be silly or serious—from Most Sales This Year to Best Reindeer Impression. Weve allows you to pull your employees "on stage" as you give them an award or simply show an image of the highlighted employees during a live or pre-recorded presentation.
WHY THROWING A VIRTUAL HOLIDAY PARTY IS IMPORTANT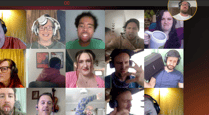 Remote teams deserve to celebrate a year of accomplishments and indulge in some holiday cheer together. Of course, gathering a globally dispersed team in person can be challenging or impossible during the holiday season. Throwing a virtual holiday party is a good way to kick back, show appreciation for a year of hard work, and provide an opportunity for connection. Throwing regular events like a virtual holiday party helps to keep morale high. And remember, a strong company culture filled with happy employees is a gift that keeps on giving.
HOW DO YOU THROW A VIRTUAL OFFICE PARTY?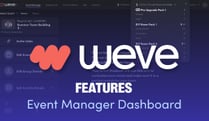 We'll do all the planning for you so you can "sleigh" your holiday party this year. Just let us know when you want to party, the amount of attendees, and what you're interested in doing in our easy-to-use Event Manager Dashboard. We'll take over the planning so you can focus on perfecting your eggnog recipe or remember where you've stored your Hanukkah candles. We can even integrate with other conference platforms like Zoom, if you need.
WHEN SHOULD I THROW A VIRTUAL OFFICE PARTY?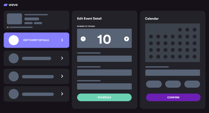 Our busiest time for holiday events is between Thanksgiving and New Year's. Make sure you take time zones into consideration when planning an event. Choose a time everyone can take a break so no one is double booked and misses out, and make sure it's a reasonable time for celebration. (We've hosted some breakfast-time parties as well as late late night bashes for night owls, and they're all great, but try to make sure no one has to wake up at 4:00 in the morning to join the fun.)
WHO HOSTS A VIRTUAL HOLIDAY PARTY?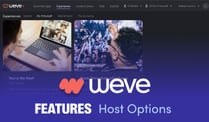 Weve comes with a variety of host options for your holiday party. On the day of, you or someone on your team can take over with self-hosted mode, open up some virtually-hosted activity rooms, or one of our elves, er, hosts, can run the show as a pro-hosted event.
Organizing end-of-the-year celebrations can be a (holi)daze, so we work hard to make your planning process easy. We hope our virtual holiday party ideas got you thinking about your upcoming holiday event. (We know it doesn't seem like it right now, but winter is coming.) You also may have some of your own ideas in mind. We're excited to hear them. Visit weve.co and reach out to our sales team to start planning your holiday party.