Another day, another meeting on Zoom. Does this sound familiar to you? Your team logs on, half of them turn off their cameras, and almost everyone mutes themselves instead of engaging with each other before, after, or during the meeting. Zoom fatigue is real—and it's ruining meetings and social gatherings. While it's important for remote teams to stay connected virtually, this fatigue might have you looking for alternatives to Zoom meetings.

Weve is the best of the Zoom alternatives. The all-in-one virtual events and meeting platform allows you to switch from meeting mode to play mode in an instant, encouraging fun and engagement that platforms like Zoom don't. Weve knows the way you gather impacts your company culture. Instead of being developed just to make higher quality video calls, Weve was intentionally designed to make meetings more memorable and impactful.
To understand why Weve is better than Zoom or other Zoom alternatives, take a look at the feature comparisons. Once you realize how easy it is to promote productivity, engagement, and fun with the flip of a switch, we think you'll want to make the switch.
Features: Zoom vs. Weve
1. Meetings
Weve offers alternatives to Zoom meetings that are much more engaging. Pivot between work and fun quickly so you can teach your employees about your upcoming campaigns or initiatives in one moment and then quiz them about it in a fun game the next.
| | |
| --- | --- |
| Zoom | Weve |
| Host meetings for up to 1,000 people and webinars for up to 50,000. | Host meetings for up to 5,000 people. |
| Use gallery view to see everyone or speaker view to highlight who is talking. | Use meeting mode to see up to 25 people at a time for smaller gatherings. |
| Use webinar mode to watch live panelists present "on stage." | Live stream or stream pre-recorded content to watch panelists present "on stage" for up to 5,000 people (a great Zoom alternative for large meetings). |
| | Set timers to manage discussions. |
| | Embed your content (text, images, or video) and agenda within your meeting to make it more engaging and interactive so attendees stay focused. |
2. Games & Content
For those seeking alternatives to Zoom quiz or trivia nights, Weve has hundreds of prewritten games to choose from. Fresh content is created monthly, so even if you play every few weeks, there will be something new to choose from. With a focus on fun and games, it's one of the best alternatives to Zoom conferencing.
| | |
| --- | --- |
| Zoom | Weve |
| You must create and facilitate any game or event yourself; there is no content provided. | The content is created for you, so even the event's planner can join in on the fun. |
| | Choose from hundreds of content options and themed games. |
| | Ice breakers and getting-to-know-you games add a great ritual to weekly meetings. |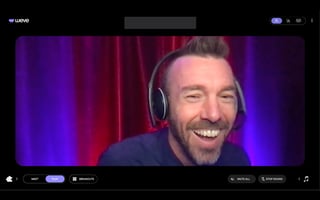 3. Host Options
On Zoom, you have to create and facilitate any game or event yourself, which means the organizer won't even get to fully relax or participate. Weve's host options make it so everyone can join in on the fun.
| | |
| --- | --- |
| Zoom | Weve |
| Use host and co-host controls. | |
| You can transfer hosting permissions by adding co-hosts. | Take the wheel in a self-hosted experience where you or another team leader serve as the host in a meeting or interactive activity. |
| | Let a hilarious and engaging professional host lead your team in a collaborative and fun live event during a pro hosted event. |
| | Let things run themselves in a virtual hosted experience where introductions & instructions are delivered through queued video clips so everyone on your team can participate. |
| | Many of Weve's hosts have thousands of hours of experience. |
4. Lobby
Set the tone for engaging meetings from the moment people sign on with Weve's lobby. Ditch the waiting room for a pre-event lobby that encourages interaction and fun from the moment your attendees join. Why wait around when you can play around instead?
| | |
| --- | --- |
| Zoom | Weve |
| Attendees can wait in a virtual waiting room where a host can admit them one by one or all at once. | A pre-recorded video will acclimate attendees to the lobby so they understand what's going on. |
| | Attendees can head to the photobooth to snap a picture and view everyone else's poses in the group gallery. If they're feeling social, they can talk with thousands of other people through the lobby Text Chat or pop into a smaller Video Chat with up to five other attendees. |
| | Icebreakers in the lobby help people jump into getting-to-know-you-mode quickly and seamlessly. |
| | Keynote presentations and announcements can stream in the lobby to thousands of people at once. |
| | Able to accommodate up to 5000 participants logging into the lobby and being sorted into rooms to optimize for groups of 25 per room. |
| | Weve's auto-assignment adds attendees to rooms and makes sure they know exactly where to go. Randomly distribute groups of all sizes and automatically open rooms depending on turnout to ensure even group sizes, or we can assign and sort teams based on your list. |
| | Attendees not participating in game rooms can watch the action with game play being live streamed into the lobby. |
| | An easily visible and adjustable countdown timer lets everyone know when things are about to start. |
5. Event Manager Dashboard
Weve's Event Manager tool makes it easy to plan or organize one-time or recurring virtual team building experiences.
| | |
| --- | --- |
| Zoom | Weve |
| Schedule meetings in a dashboard. | Answer questions about your group and event goals so expert Event Producers can plan the perfect experience for your team. |
| View graphs for statistics on users, meetings, and Zoom Rooms. | Schedule recurring events directly through the dashboard. |
| | Update your attendance and event dates and times right through your dashboard. |
6. Branding
One of the things that makes Weve one of the best Zoom alternatives is the ability to show your company's personality on the platform. You've worked hard to get your branding just right. Now, show it off.
| | |
| --- | --- |
| Zoom | Weve |
| Ability to brand a vanity URL. | Ability to brand lobby and game rooms with your colors and brand images. |
| | Add custom trivia to your experience. |
7. Breakout Rooms
Create intimate moments where small groups can chat and engage with each other. Weve offers alternatives to Zoom breakout rooms.
| | |
| --- | --- |
| Zoom | Weve |
| Participants can be pre-assigned to breakout rooms or shuffled at random. | Up to 10 attendees can be assigned per breakout room. |
| | Shuffle people into breakout rooms or organize people by letting them choose their area of interest. For instance, if a poll offers people the options of discussing interest rates, stocks, or bonds, they will be placed into a breakout room with other people who chose the same topic. |
8. Muting and Volume
| | |
| --- | --- |
| Zoom | Weve |
| Participants can mute themselves or be muted by the host. | Participants can mute themselves or be muted by the host. |
| Music can be shared through screen share. | Dynamic muting states: At times when it makes sense you can only hear your team and other times you can hear all participants. |
| | Everyone is automatically muted when important information is being communicated by the host so no one misses out. |
| | During some game rounds such as Buzz-In, the scribe/person representing the team can hear their own team, but no one else can, so they have a support system to back them up. |
| | No screen share required to play music. |
| | Attendees can control the volume of their background music that is played by the host to their comfort level. |
9. Screen Sharing
Make sure your whole team is on the same page by screen sharing important information. Zoom alternatives for businesses—like Weve—have this ability, too.
| | |
| --- | --- |
| Zoom | Weve |
| Share your screen, desktop, or other content with participants of a webinar or meeting. | Share your screen, desktop, or other content with participants of a webinar or meeting. |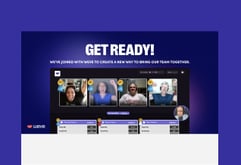 Looking for more reasons to consider Zoom alternatives? Sign up for a demo to see why Weve is the best alternative to Zoom.
Use the platform for meetings and virtual team building activities at weve.co.